By: Jon Finkel
While there are plenty of authors who choose to write under a pen name, perhaps Mark Twain being the most famous (real name: Samuel Clemens), musicians take the cake when it comes to selecting over-the-top pseudonyms. In fact, judging from the names many of them choose, they want pseudonyms that sound like they take the cake, eat it, then knock back a dozen donuts and a case of beer. Truth be told, the list of successful musicians with some nod to obesity in their names is incredible.
If Beethoven were trying to make it in the music business today, his agent would probably insist that he perform under the name Large Ludwig. Likewise, Chopin's stage name might be Fat Frederic. Mozart could be forced to go by Wide Wolfgang.
Don't believe me? Think of these musician's names:
Ever hear of the rapper Thin Joe or the rap group The Skinny Boys? How about the rapper/actor Light D? No? That's because when it comes to modern-day Billboard chart-toppers, thin isn't in. How else to explain the glut of musician and band names that hint at hugeness? Would Big Bad Voodoo Daddy sell as many albums if they were known as Gaunt Good Voodoo Daddy? Would Big Pun's Capital Punishment album have gone platinum if he went by Little Pun? Would Meat Loaf be a rock legend if he were called Veggie Loaf?
We don't know the answers to these questions, but we do know that this trend toward gluttonous-sounding names began early in the 20th century. Reportedly, the first man to adopt the mega-sounding moniker was Thomas Wright Waller, born in 1904 in New York City. His mother played the piano and encouraged him to start tickling the ivories at age six. Shortly after his lessons were under way a physical transformation began and, as his talent grew, so did his waistline. Soon, the portly prodigy outgrew even his own name and Thomas Wright Waller became Fats Waller, one of the greatest jazz pianists of all time. (Ironically, one of his first hits was "Muscle Shoals Blues.")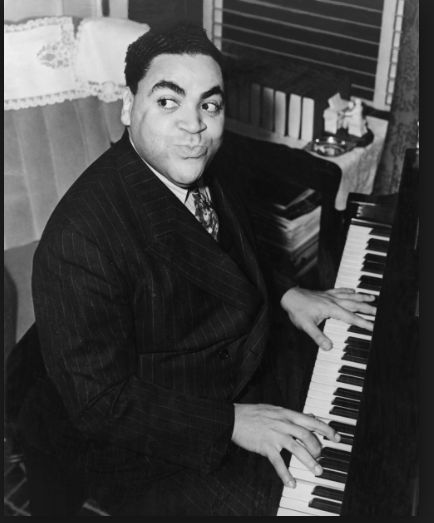 Around the time Fats Waller was hitting his stride, another paunchy pianist was born in New Orleans. Antoine Dominique Domino — like Waller — had incredible musical talent, became a national sensation, outgrew the name he was born with and replaced it with Fats. In fact, "The Fat Man" was Fats Domino's first hit.
A generation of musicians would ignore the "Fat" moniker before the 1980s and '90s saw a resurgence with The Fat Boys, Fat Larry's Band, Fat Joe and even Fatboy Slim (though I'm not sure this counts). In the meantime, other stout surnames became popular.
Ernest Evans got his name while trying out for American Bandstand. The story goes that a young, pudgy Evans chose to cover a Fats Domino song for his audition with Dick Clark. When it was over, Clark's wife asked Evans what his name was, and he replied that his friends called him Chubby, to which she joked that his last name must be Checker (since Fats' last name was Domino). Amazingly, the name stuck. Chubby Checker would unleash his famous "Twist" a few years later.
Chubby didn't quite have the legs that Fats had as a nom de guerre, but it did inspire Chubb Rock and Popa Chubby. But neither Fats nor Chubby could stand up to the explosion of the surname "Big" that hit in the late 1980s and is still used today.
Almost as if owning a thesaurus became illegal, a staggering number of musicians simply chose "Big" as a stage name. From Big Poppa and Big Pun to Big Daddy Kane, Big Boi and Mr. Big, "Big" came to symbolize status as much as size. Too bad this revelation didn't happen a century or two earlier; who knows how many more national anthems Francis Scott Key would have written if he'd simply gone by Big Frank?
And maybe Game of Thrones would be twice the hit it is if George R.R. Martin went by Giant George Martin.
As for me, I'm thinking of changing my byline to Jumbo Finkel. I'll have a Pulitzer in no time.
Did you love this article? Sign up for my profiles and monthly round-up: http://bit.ly/21juoUt
Jon Finkel is the author of Forces of Character with 3x Super Bowl Champion and Fighter Pilot, Chad Hennings, Heart Over Height with 3x NBA Slam Dunk Champion Nate Robinson, as well as Jocks In Chief, the hit fatherhood book, The Dadvantage – Stay in Shape on No Sleep with No Time and No Equipment, and all twelve volumes in the Greatest Stars of the NBA book series for the National Basketball Association, which won several ALA Young Reader Awards.
As a feature writer, he has written for Men's Health, Men's Fitness, Muscle & Fitness, GQ, Details, The New York Times, AskMen.com, ComedyCentral.com, Yahoo! Sports' ThePostGame.com and many more. His work received a notable mention in the 2015 Best American Sports Writing anthology.