By: Jon Finkel
Guillermo Rodriguez is the man.
He's the man who wrestled Matt Damon in a bit plugging The Bourne Ultimatum. He's the man who convinced Channing Tatum and Bryan Cranston to drink tequila on the red carpet of the Oscars. And he's the man who turned a parking lot job into a starring role on Jimmy Kimmel Live.
"The very first time they asked me to be on the show I said 'no'," Guillermo says. "One of the producers said that the writers were thinking of putting me on the show and I told them that I'd never been on TV and that I was very shy, but they told me to give it a try."
Eleven years later, Guillermo is still going strong with JKL, sharing screen time with Oscar winners, Emmy and Grammy winners, and covering everything from the NBA Finals to Austin's South By Southwest festival.
Prior to his big break with Kimmel, Guillermo was working two full-time jobs and a job on the weekends as well. One of the jobs was as a room server at a hotel from 6AM to 2PM and the other job was at a parking lot behind the Jimmy Kimmel Live studio.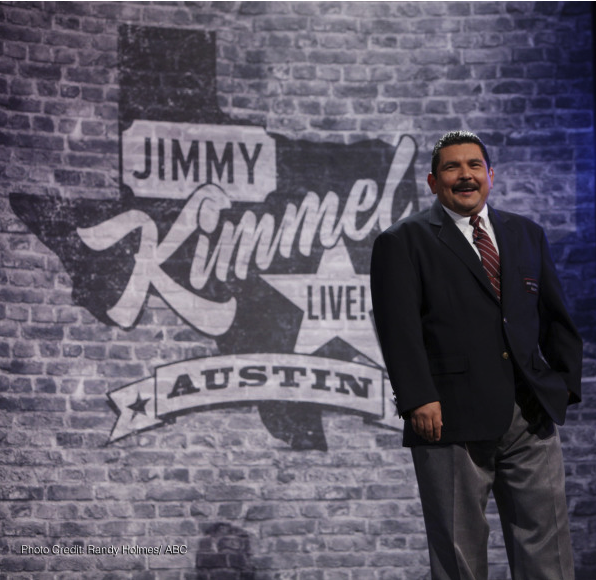 ALWAYS BE YOURSELF
"The first time I was on the air I was very nervous," Guillermo says. "I talked to Uncle Frank and told him how I was feeling and he said that I should just be myself."
Uncle Frank was Kimmel's uncle and a beloved staple of the show. Early on in Guillermo's career, the two of them would star in skits together, most notably, 'Security Night Live', which was a spoof of Saturday Night Live's famous 'Weekend Update' segment.
"Uncle Frank said to just be natural," Guillermo says. "He said don't try to be funny. Don't try to act. Just be yourself, that's what Jimmy likes."
When Guillermo was plucked from the parking lot to be on the show, he says that some of his security-guard colleagues thought he was good, others were jealous, but everyone agreed that he was lucky.
"After the first skit I thought it was funny," he says. "I liked it, but I didn't ask for more. I just finished and they paid me and I went back to my security job. Then the writers came back and said that they were going to use me again. They gave me a script and everything."
IT'S OK TO BE NERVOUS AROUND ROBERT DE NIRO
It's been over a decade of red carpet interviews and bits with A-list celebrities for Guillermo, but he still gets the jitters when he interviews stars of a certain magnitude.
"Oh man, I still get nervous with the big people," he says. "Oh my God, one of the most nervous times was when I had to interview Robert De Niro. We were at his hotel waiting to do the interview and my hands were sweating and I was just like, oh man, it's De Niro from so many great movies. Finally, he got there and he talked to the director of the piece and then the director introduced us. Then, De Niro said, 'I know Guillermo and I'm familiar with his job.' I couldn't believe it."
Amazingly, De Niro didn't even ask to do a read-through with him of the prepared questions. The legendary Godfather II actor told him to just do his thing and he'd answer his own way. The bit was a huge success, and Guillermo says that while he usually follows the script he's given, when he has his own ideas, he just goes for it. So far, most of his ideas have worked.
If they don't, Guillermo says he's still happy because on a regular basis he gets to talk to the most beautiful women in the world. And sometimes, if duty calls, he gets to do much more than just interview them.
He's been kissed by Megan Fox, given a foot rub to Amy Adams on the red carpet of the Oscars, and he's had Taylor Swift stroke his mustache at the American Music Awards; all for laughs, of course.
"I get so excited," Guillermo says. "For example, when I go to the Emmy Awards or the Grammy Awards, all the women put on these nice dresses and look fancy. I saw them on TV and then I'm interviewing them. I love it."
JUST GO FOR IT
Guillermo realizes how lucky he is to have been given the opportunity to star on a hit late night show and he says that he's grateful to Jimmy Kimmel for everything.
"Jimmy is the best," he says. "He's such a nice guy and we have so much fun here."
Still, Guillermo never forgets where he was just over a decade ago and he maintains the work ethic he had with his previous three jobs while doing the best he can at his one famous job.
"I pray that everything goes right," he says. "I was afraid at first, but someone told me to not be afraid and just go for it."
As for advice to other people who are given the opportunity of a lifetime, Guillermo keeps it simple:
"Believe in yourself, do your best and you can achieve your dreams."
Did you love this article? Get the Finkel Files sent straight to your inbox here: http://bit.ly/21juoUt
Jimmy Kimmel Live airs on ABC weeknights at 11:30pm Eastern. For show information, visit: http://abc.go.com/shows/jimmy-kimmel-live