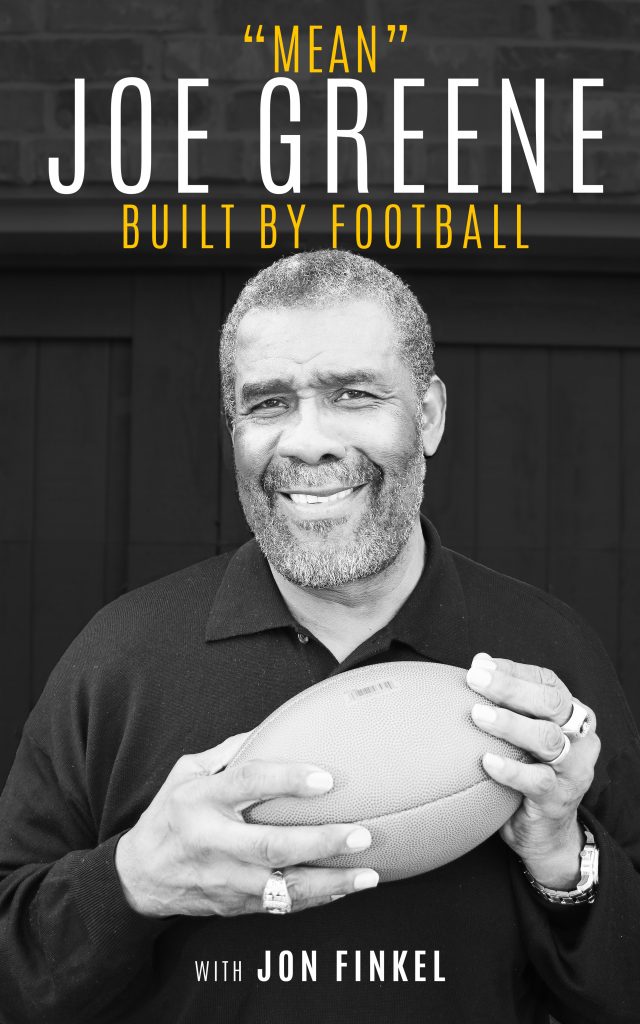 Available Everywhere April 3rd, 2017
"When I got to North Texas I was rough around the edges as a man and as a player. College helped polish me up a bit and then when I got to Pittsburgh my teammates helped me to continue to smooth things out. I'm a better person because of the men who coached me and the men I played with. I learned from them. I'd like to take this opportunity to pass along that knowledge." – Joe Greene
"Mean" Joe Greene's memoir is a master class in determination, domination and perseverance. For the first time ever, the College and Pro Football Hall of Famer gives readers an unflinching look at his rise from high school bully-victim and bench warmer to North Texas legend and Steelers icon.
Many years before he would anchor the most-feared, most-successful defense the NFL had ever seen, Joe Greene was just a big, timid kid from Temple, Texas struggling to find his confidence as a teenager being raised by a single mother.
In his compelling, eye-opening autobiography, Greene takes readers on an unprecedented tour of his life, exploring the people who influenced him and the events that shaped him: from humiliating high school embarrassments to the grit and guts that led to four Super Bowl titles as a player.
Praise for Mean Joe Greene
 "I had the honor of playing with Joe Greene and sharing those great Steeler Super Bowl victories with him. I am convinced that none of them would have happened without Joe and his leadership. He was a great leader on the field and in the locker room. His desire to win and positive attitude were contagious. Because of his physical play he was known as "Mean" Joe Greene, but those of us who truly know Joe Greene know that he is a better person than he was a player and that's saying a lot." – Mel Blount, NFL Hall of Famer
"I believe that my friend Mr. Joe Greene may be one of the "deepest" people that I've ever met. I sometimes get angry when people only refer to him as "Mean" Joe because they miss the complexity of the man. To view Joe as only a great football player is to miss the biggest part of a great man. I am glad he has agreed to do this book, as it comes at a time when real heroes are desperately needed." – Jon Kolb, 4x Super Bowl Champion
"By the time I was drafted by the Steelers, it was clear that Joe was the cornerstone of our team. With him in place, they drafted players to fit this new system and mentality. The results are now legendary, as we won four Super Bowls and the Steelers became the new standard of professional football. Yes, Joe was the spark that ignited it all, and as time passes, his role continues to shine brighter and brighter. There is no question in my mind that "Mean" Joe Greene is the greatest Steeler of all time!" – Franco Harris, Pro Football Hall of Famer
"Joe has been a good father to his three children, a good husband, and it has been wonderful to have Joe as a representative of the Steelers in all the ways he was involved with the team. He was still a young man when we became the team of the decade in the 70s. He had many achievements, playing in Super Bowls, Pro Bowls, and all the best recognitions. He was enshrined in the Pro Football Hall of Fame in 1987. However, he was not interested in the accolades. He was focused on being the best." – Dan Rooney, Owner of the Pittsburgh Steelers, former US Ambassador
"Mean" Joe Greene: Built By Football is the first book in the 'Built By Football' series presented by Football Matters. The books will feature College Football Hall of Famers sharing their lives and how football helped shape their character, leadership skills, taught humility and integrity, and helped them learn the lessons they've used throughout their lives as players, husbands, fathers, friends and mentors
Available Everywhere April 3rd, 2017